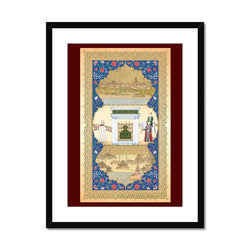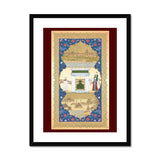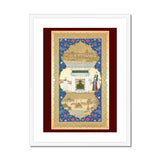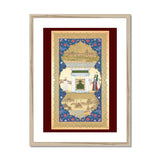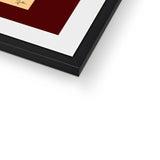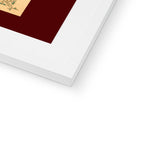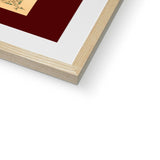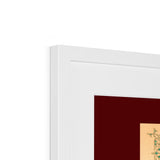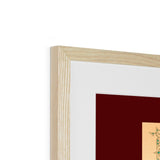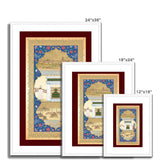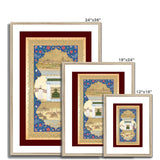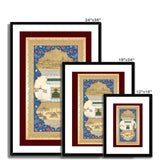 Spiritual Journey of Aziz Mahmud Hudayi | Zeynep Elci Framed & Mounted Print
Spiritual Journey of Aziz Mahmud Hudayi | Zeynep Elci
Aziz Mahmud Hudayi's shrine is positioned at the center of the work. There is Topkapı Palace placed at the upper part . 8 different Sultans have ruled during Aziz Mahmud Hudayi and all lived in Topkapı palace therefore Topkapı Palace is placed in the work.
At the lower part, Uskudar ( a district in İstanbul ) is portrayed. Uskudar is the district where Aziz Mahmud Hudayi lived and died.
As for the story of the work, Aziz Mahmud Hudayi has taken the path of Sufism after  he was assigned for some case during the time when he was Qadi. ( Muslim Judge ). The most interesting part of the work is his appearance as he wears Kaftan while selling liver at the bazaar. The irony is that wearing kaftan used to symbolize/represent  the wealth at that time. By doing so, it is believed that he was defying his own nafs.
This piece by Zeynep Elci is the perfect finishing touch for your interior. Each print is especially made just for you and you can rest assured that only the finest, gallery-standard materials have been used to create an incredibly vibrant print on archival grade paper. Frames and window mounts are produced using FSC-certified materials and finished with clean, simple lines and a satin finish, and arrive ready to hang. With proper care, your print will easily last for more than 100 years.
We have partnered with a global network of printers that will automatically route your order to your nearest print facility, thus allowing for faster fulfilment of your order and reducing our carbon footprint. You can rest easy knowing that you are buying conscientious, feel-good art which supports our environment as well as the artist behind the print.

So whatever colours our artists use to create their art Your prints will be "Green" and here to enjoy for many years to come.