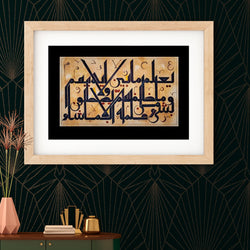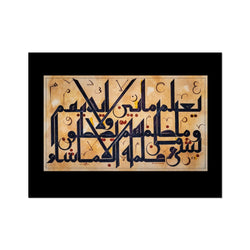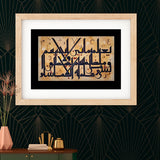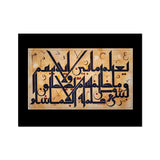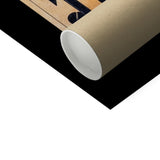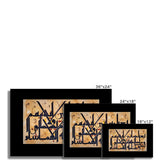 The Gist of Ayatul Kursi Art Print | Shaykh Muhammed Saleh al-Moroni
The Gist of Ayatul Kursi | Shaykh Muhammed Saleh al-Moroni
This calligraphy says alot about generosity in structuring of lines. Possibilities of lines and space are explored allowing blocks of letters to come together like a complicated puzzle. Hence the stretching and exaggerating of letters is always successfully integrated.
This piece by Shaykh Muhammed Saleh al-Moroni is the perfect finishing touch for your interior. With each print being made to order especially for you, you can rest easy knowing that only the finest, museum-standard materials and processes are used, creating incredibly sharp and vibrant giclée prints on heavy weight archival paper. With proper care your print is guaranteed to last for more than 100 years.

We have partnered with a network of global print labs to automatically route orders to the nearest manufacturing facility as determined by the customer's address. So we can individually fulfil each order as close to the customer as possible in order to reduce carbon footprint.
So whatever colours our artists use to create their art Your prints will be "Green" and here to enjoy for many years to come.